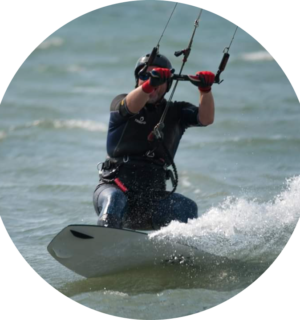 Say Yes to Kitesurfing!
Kitesurfing is a sport that involves using wind power with a large power kite to pull a rider across a water, land, or snow surface. It combines aspects of paragliding, surfing, windsurfing, skateboarding, snowboarding, and wakeboarding.
We Offer a Variety of activities!
We offer a variety of activities. We have tuition packages that suit anyone who wants to know about all type of water sport. We offer a range of kitesurfing, windsurfing, surfing, wakesurfing and waterskiing courses.
Are You In?
Welcome, to our kitesurfing center! We have the best, passionate and experienced instructors. We provide safety and proper knowledge. You will get up and ride!
Kitesurfing in Albania center is equipped with the latest equipment which makes learning faster, easier and more fun.
We provide the right lesson for each level. Don't hesitate and come to Kitesurfing in Albania.